Collecting all our gear we left Oakland in the late AM planning to miss the going to work boaters.  And we did.
We got to the port of Bakersfield after of day of playing "tag" with the many scows that ply these water ways.  They hatch like insects in swarms rumbling down the canals with belching engines and a penchant for bravado.  They like to race one another to where-ever.  The Captain bobs and weaves skirting their advances.
We took the Tahachapi Pass over the mountains to the desert of Mohave.
Then it rained.  I became sea sick.  The first time ever!  Horrid….I left nothing for the future.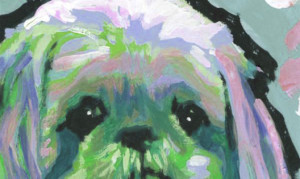 The Captain, a man of good graces, made no complaint of my seamanship, dabbed my chin and said I was a "good dog".
We traversed more mountains and deserts with more rain and Friday afternoon traffic as we channeled through the throngs of boaters all dripping in gunnel' to gunnel' mayhem.
We made it soaked and sappy as ever.  The Harbor Master, the sweet Donna, was there to greet us.  Treats for me!
It was good to be here.  I like a place with treats.
Your Servant,
Tasha II, First Mate.